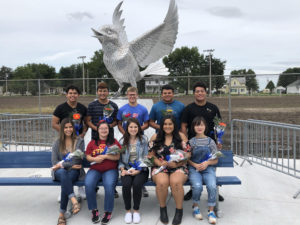 It's Homecoming this week at Perry High School, which means there's an assortment of activities and events between now and Friday night's football game against North Polk.
The theme for this year is "Blue Jays are Out of this World," so decorations in and around the school will have a space theme. Events got started this past Friday when the Homecoming Court was announced. The ten individuals will be the subjects of school-wide voting this week for who will be crowned Homecoming King and Queen, which will be announced Thursday night at the coronation ceremony. The coronation will once again be broadcast live on Raccoon Valley Radio. Before they get to that, though, students will go through Volunteer Day on Wednesday.
Perry Student Council Advisor and Homecoming organizer Brenda Mintun says Volunteer Day is an event that both the students and community look forward to every year. "I think it instills the values that we want in our students and our society. We know that so many businesses and organizations in the community really support the school. And I think it's just great to show we support them in every way that we can too. And that it's great to help out others, and to not always think about yourself and what I can accomplish, but to really give back and to really value your community and take pride in what you see everyday."
Also on Wednesday is the Homecoming parade, organized by the Chamber of Commerce, which will start at 6 p.m. and culminate in a post-parade party. The week's festivities wrap up on Friday, with Game Day, the awarding of the Spirit Stick, the varsity football game, and the Homecoming Dance. Mintun says they raised the cost of the dance to $7, but she emphasizes it's still less expensive than a typical night out. To learn more about Perry Homecoming Week, listen to today's Perry Fareway Let's Talk Dallas County program on air and at RaccoonValleyRadio.com.