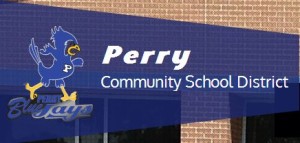 We're less than a month into the current school year, but if you ask people in Perry High School and Middle School, it hasn't taken long to see returns from a new program.
The District implemented "Capturing Kids Hearts" this year, which Superintendent Clark Wicks says is a relationship building program designed to improve the overall learning environment in the schools. It was proposed during the summer by a middle school teacher who had training in it with a previous district, and was approved by the School Board. At the recent Board meeting, principals Dan Marburger and Shaun Kruger reported on what they've seen so far with the program.
They said some of the aspects of "Capturing Kids Hearts" were a little awkward at first for both the students and teachers, but it didn't take long for everyone to get used to it. Kruger then gave the floor to Middle School Reading Teacher Terra Webb, who gave a presentation on how she's used the program so far. The Board was impressed by a video of Webb greeting each student at the door with a handshake and eye contact, and were pleased with the students' responses to the gesture. Webb also showed other aspects, including cooperative activities, a social contract, and daily affirmations.
Marburger reported similar success with "Capturing Kids Hearts" at the high school, and Elementary Principal Ned Menke even reported a trickle-down he's seen at his school. Wicks realizes it's still a small sample size, but expressed his excitement for such positive early feedback. "(It) has really made a difference with the culture, (and) welcoming kids. Making sure that we connect with kids through their hearts, and then that will also get to their minds. And then more importantly, having accountability to be the very best version of ourselves."
To learn more about the Perry School District, listen to Tuesday's Perry Fareway Let's Talk Dallas County program at RaccoonValleyRadio.com.