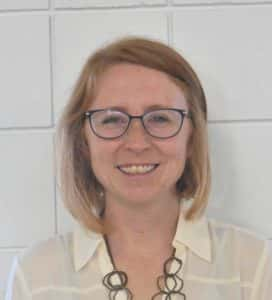 Greene County residents got the opportunity to meet the new ACCESS Assault Care Center Executive Director Thursday at the First Presbyterian Church in Jefferson.
Tess Cody took over as the executive director in late February. She has a master's degree in community development from Iowa State University. Cody also has ten years of experience working in crisis intervention services in Oskaloosa, Iowa Coalition Against Domestic Violence and has worked with Drake University on violence prevention. She talked about why she wanted to be apart of ACCESS.
"I really have been drawn to the organization because they are just so client led. There are a lot of programs across the state that's part of their mission, part of their values. It's hard sometimes to live it I think in social services, and I think ACCESS really puts clients at the center."
While she settled into her new role, Cody described having the staff that she does within ACCESS that's been so dependable and helpful.
"We have some tremendous staff and I'm so thankful for that. Our staff, they're in the communities that we serve. When it comes to folks that kind of have their fingers on the pulse of what's going on, they know way better than I do. So (I) really try to be collaborative, and listen, and hear what they think are the directions we need to go. Then we work together to kind of pivot toward that direction."
She is excited to work more with Greene County and have more of a presence in the community.