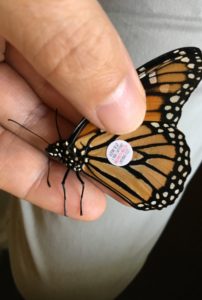 September is typically the time of year that Central Iowa welcomes some yearly visitors, which has led Dallas County Conservation to declare it "Monarch Month."
With that in mind, they have one upcoming event to educate the public about Monarch Butterflies, as well as their on-call Monarch tagging program. Conservation Outreach Coordinator Ken Keffer says the program "Monarch Miracles" will be held this Tuesday, September 18th, from 7-8:30 p.m. at the Hanging Rock Conservation Area near Redfield. At the event, attendees will learn exactly what it is about the butterflies that make them so special, and how such a small creature is able to make such a long journey.
As for the tagging program, Keffer says people can call Forest Park Museum to get their name on a list, and Conservation will contact them when it's time to go catch some Monarchs. He adds, there's no experience necessary to tag the butterflies, because training will be offered by some on-site experts. "We'll definitely have plenty of staff and volunteers on hand to kind of help. You know, you don't have to have any experience necessarily, but we'll definitely get you trained out there. And so it's a great hands-on experience for a lot of folks and a neat event!"
There's no cost to attend the "Monarch Miracles" program or the Monarch tagging, but preregistration is required. You can do so by calling Forest Park at 515-465-3577, or by visiting the Dallas County Conservation website, www.dallascountyiowa.gov/conservation.