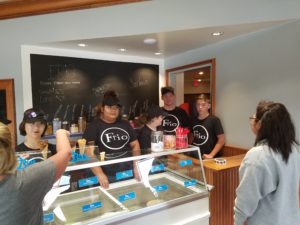 It's been less than a month since the Frio Ice Cream Shop opened in Perry, and while the lines recently haven't been as long as they were at first, it's still a hot destination for all ages.
Frio and Hotel Pattee Owner Tom Maxwell says he couldn't have asked for a better start for the ice cream parlor. "The response from the community has been tremendous. I think in the first five days, we had served 3,000 orders, so (we're) pretty excited. We don't expect that trend to continue, but what we're very excited about is it seems to be meeting the needs of every possible group in the community: young people, older people, (and) we love the fact that our Hispanic/Latino population is supporting Frio to the level that they are. And it's going very, very well."
To celebrate Frio's success while also officially welcoming the shop to the City, the Perry Chamber of Commerce will be helping Maxwell host a grand opening celebration and ribbon-cutting ceremony on Monday, October 1st starting at 11 a.m. There will be specials running all day, so Maxwell says if people haven't been there yet it will be a great opportunity to do so. Conversely, for those who have been regular customers, he hopes they'll come and support Frio for their big occasion.
To hear more from Maxwell, listen to today's Perry Fareway Let's Talk Dallas County program on air and at RaccoonValleyRadio.com.