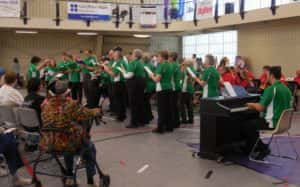 A community choir group is scheduled to perform this weekend in Grand Junction.
The Greene County Singers will present their performance of "Let Music Live" at the Presbyterian Church at 2pm on Sunday. The volunteer, mixed choir is now in its third year, and includes as many as 22 individuals across the county. Sunday's performance will feature a mix of secular, sacred and Broadway musical selections. The group is under the direction of Sheilah McGregor Pound of Jefferson with piano accompaniment by Karen Murphy of Scranton.
The concert is free and open to the public.