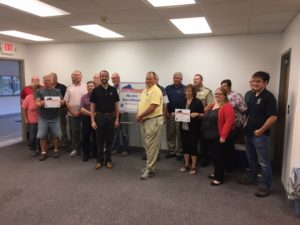 National Weather Service (NWS) meteorologists joined public officials from Guthrie and Adair Counties Thursday evening for a special ceremony. The NWS recognized the two counties as "StormReady" for their excellence in severe weather preparation.
Since its inception in 1999, more than 2,350 communities across the country have been designated as StormReady. To receive the designation, organizations must follow certain criteria, including: have access to a 24-hour warning point and an emergency operations center; have more than one way to receive severe weather forecasts and warnings and to alert the public of local weather conditions; promote the importance of public readiness through community seminars; develop a formal hazardous weather plan; and hold emergency exercises.
Adair and Guthrie County Emergency Management Agency (AGCEMA) Coordinator Bob Kempf thanked the local officials for helping to achieve the designation for the counties. "You're the ones that make it happen. There isn't anybody else making it happen. Whatever we have for a program for Adair and Guthrie County Emergency Management comes out of this room. It didn't come from anywhere else."
NWS Meteorologist Chad Hahn didn't leave Kempf out of the expressions of gratitude. "On behalf of the weather service in Des Moines, we're very proud that you went down this path to be a StormReady county. It's a huge step guys. It really establishes this relationship. It solidifies it and someday when Bob (Kempf) leaves his post, when I leave my post, and all the people go away, that relationship is still there because of the good work that Bob's done."
The designation will be in effect for the next three years. AGCEMA is also an Ambassador for the Weather-Ready Nation Program, which is an extension of the StormReady program.
Kempf specifically thanked Raccoon Valley Radio for helping to support the strategic plan for emergency management in the counties. Raccoon Valley Radio's Severe Weather Action Team goes into effect whenever a severe weather warning impacts Guthrie, Dallas, and Greene Counties. We report on local conditions, road closures, and cancellations or delays. The one to count on for severe weather coverage is Raccoon Valley Radio.