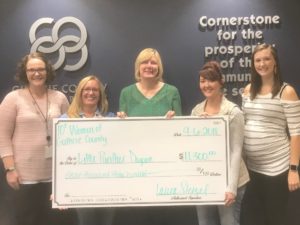 Recently the Ten Squared Women of Guthrie County presented their latest quarterly donation. The Little Panther Daycare and Preschool in Panora received an $11,400 grant.
Little Panther is in its 15th year serving area children in educational development and child care. They plan to use the funds for new appliances and carpeting in some rooms, as well as updates to their security system. Little Panther Board Member Chris Arganbright nominated the group during the August meeting.
The Ten Squared Women of Guthrie County have now surpassed $75,000 in donations to Guthrie County charities and non-profit organizations since they formed in 2017. Giving Incorporated and the Guthrie County Backpack program were the other two organizations nominated. Their next meeting is Thursday, November 15th at the Lake Panorama National Resort and Conference Center in Panora.