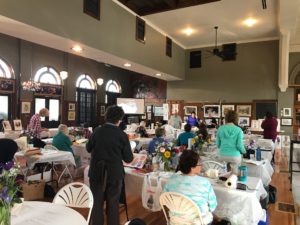 La Poste in Perry is known for its frequent guest artists, and there's one in town that's also teaching a workshop.
Janet Rogers is a watercolor painter from Florida who is a Signature Member of the American Watercolor Society. She's been all around the United States teaching watercolor techniques, and for the first time she's made her way to Iowa for two separate workshops. The first started Thursday and ends today, and has been focused on figure painting, such as flowers. Starting Monday and running through Wednesday, Rogers will be teaching a workshop on painting portraits. Additionally, on Sunday La Poste will be hosting the Iowa Watercolor Awards show, which Rogers was on the jury for.
Rogers has liked what she's seen of Perry, as she finds it a unique and welcoming place, in addition to having talented artists. "I get to travel a lot when I teach, and most of all I love meeting people. Working with the students, they have an incredible amount of talent, which I enjoy. And to think that we can all be painting flowers, or all be painting a person, and nobody paints alike. Nobody paints the same way. So that's kind of fun for me, I learn a lot from them."
While it's too late to participate in the figure workshop, the public is invited to sign up for the portrait sessions. There is a small fee of $3.25 to participate, and the classes start at 9 a.m. Additionally, people not participating in the workshop are welcome to stop into La Poste and walk around to see the art taking place. Rogers encourages people to give the class a chance, even if they're new to watercolors, as she assures them it's faster and easier than they may have imagined.
To hear more from Rogers, listen to Thursday's and this coming Monday's Perry Fareway Let's Talk Dallas County programs at RaccoonValleyRadio.com.