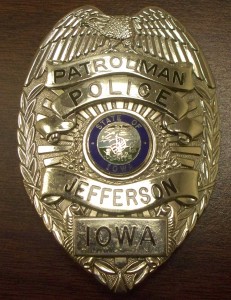 The Jefferson Police Department has filed charges against a Des Moines man for passing a fraudulent check.
Police Chief Mark Clouse says 41-year-old Daniel Eduardo Westrum is charged with a Class D Felony for forgery. He tells Raccoon Valley Radio his department was notified of the alleged incident on August 23rd when Home State Bank called them to report the suspicious check for $8,709. Clouse notes that Westrum had stolen the check out of a mailbox from Central Service and Supply in Des Moines. He points out the check was issued to a gravel company from Central Service and Supply, but that Westrum switched the names on the check and made it out for himself.
Clouse says his department has applied for arrest warrants for Westrum. Once the warrants have been issued and Westrum has been arrested, he will be booked into the Greene County Jail.
Raccoon Valley Radio will bring you more information as it becomes official.