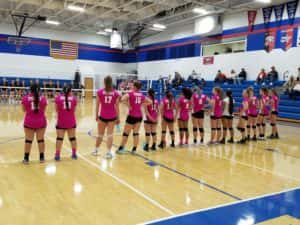 Tuesday night, the Perry Jayettes Varsity Volleyball team was not decked out in the usual blue for their game against Carroll. Instead, they each wore pink in honor of "Dig for a Cure" night.
The event is now in its fourth year, and Perry High School Principal Dan Marburger says it's been great to see it grow each season. There was an assortment of fundraisers conducted before and during the game, including a jeans day for school staff, pink t-shirts for sale, and a free-will donation bucket passed around. The gym was also decorated with posters made by the students to celebrate the event. Even the Carroll players and coaches got into the spirit, sporting pink warm-up shirts. Additionally, when the lineups were announced, each player on Perry's team mentioned someone affected by cancer who they were playing for.
Marburger felt it was once again a great event, and the gravity of what they were playing for wasn't lost on anyone. "One of the things that really becomes apparent to everybody is that everybody is touched by cancer at one place or another. Every one of our kids on the team could easily come up with someone that had an issue with cancer, so it really brings it home for each of the kids. So it's just a really cool activity for a very, very good cause."
All the proceeds from the night's fundraisers went towards Relay for Life of Dallas County, which has its annual event to benefit the American Cancer Society on October 6th at the Perry High School track.