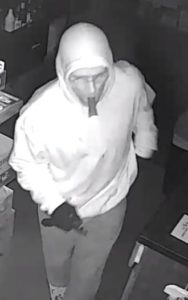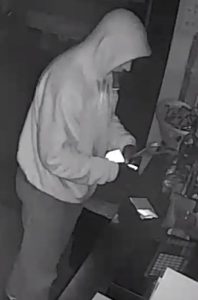 Photos courtesy of Guthrie County Sheriff's Office.
The Guthrie County Sheriff's office is asking for the public's help as they continue to investigate two burglary incidents that occurred early Friday morning in Jamaica.
According to the Guthrie County Sheriff's Office, the burglaries happened between 2:30 and 3:15 a.m. Friday at Tojo's Bar and Grill and Just One More bar. Security footage shows the suspect is a male wearing a white hooded sweatshirt, dark pants, black gloves, and eyeglasses. Anyone with information about either incident is asked to contact Chief Deputy Jeremy Bennett at 641-747-2214. To see the suspect's photo visit this story at raccoonvalleyradio.com. Raccoon Valley Radio will bring you more information as it becomes official.