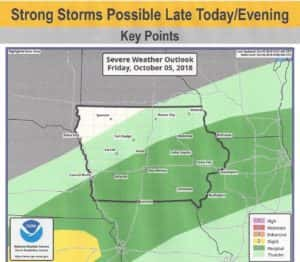 The potential for severe weather and high amounts of rainfall remains in the forecast for the Raccoon River Valley area.
According to the National Weather Service, all of Dallas and Guthrie counties, and the southeastern third of Greene County are under a marginal risk for severe weather today. The rest of Greene County is at the lowest level of severe weather risk with just general thunderstorms. The peak time for severe weather is late this afternoon into the evening hours. Potential hazards with the severe weather threat include wind speeds as high as 60-miles-per-hour, hail up to one-inch in diameter and lightning.
Rainfall amounts for Greene County between today and tomorrow is between 0.1 to 0.25-inches. Dallas and Guthrie counties are predicted to get about 0.25 to 0.5-inches of rainfall. However, between Sunday and next Wednesday, our three counties could see as much as six-inches of additional precipitation. The heavy, prolonged rainfall could create periods of flash flooding and river flooding for the next several days.
Raccoon Valley Radio's Severe Weather Action Team provides live coverage anytime there's severe weather in Greene, Dallas and Guthrie counties. The one to count on for severe weather coverage is the Raccoon Valley Radio Network.