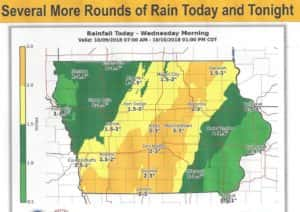 Flood watches, more heavy rainfall and potential for more severe weather are all included in the forecast for the Raccoon River Valley over the next 24 hours.
According to the National Weather Service, flood and flash flood watches have been issued through Wednesday morning for nearly the entire state. Most of Dallas County, the southeastern two-thirds of Guthrie County and the southeastern one-third of Greene County are all under a slight risk for severe weather and are under a moderate risk for flooding this afternoon into tonight. Possible hazards with the potential with severe weather include strong and gusty winds, along with lightning and tornadoes.
The National Weather Service is estimating another 1.5 to 3-inches of additional rainfall could be seen in our primary coverage area through tomorrow afternoon. According to the US Army Corps of Engineers River Gages website as of 7am Tuesday morning, the Middle Raccoon River near Bayard was the only area along the Raccoon River that was above flood stage at 16.73-feet, or over two feet above flood stage of 14-feet. Buttrick Creek near Grand Junction was approaching flood stage at 11.84-feet, or less than one foot from flood stage at 12-feet.
The one to count on for severe weather coverage is the Raccoon Valley Radio Network.