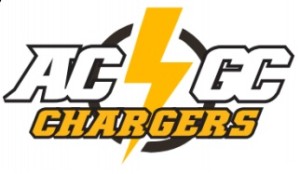 The ACGC volleyball team entered its final week of regular season competition Tuesday night. The Chargers dodged the severe weather, picked up two extra wins, and improved to 19-9 overall as they defeated the Ogden Bulldogs in four sets and the Greene County Rams in two.
The gold and black started the night off with the West Central Activities Conference victory over the Bulldogs. After dropping the first set, 13-25, they took the next three: 25-17, 25-22, 25-19. The win lifts ACGC's conference record to 6-3, which keeps them at 4th overall behind Des Moines Christian, Woodward-Granger, and Panorama. The second match saw a straight-sets sweep over the Rams, 25-21 and 25-15. That match was the first ever meeting on the hard court between the two schools.
The Chargers have just one match at Pleasantville on Thursday before they begin their regional playoff action a week from Monday. Head coach Trevor Irwin is excited to start the postseason off at home in the quarterfinal round, but doesn't want the team to get too far ahead of themselves.
"Everyone knows that volleyball is such a huge, momentum driven game. So being able to start off at home, on our home floor, in front of our home audience, I think that's really going to help propel us in that game number one and then, if we do get the 'W' there, helping us propel even further into the next game after that. Definitely want to go game by game here, not look too far ahead, but that home match is going to set us up for a very good advantage going further."
The Chargers will host the winner of the Bulldogs and Madrid in Guthrie Center on October 22nd at 7pm.