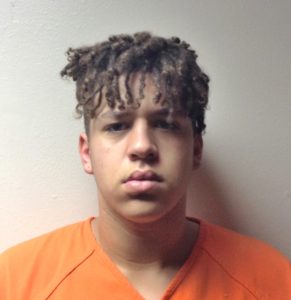 A Jefferson teen is accused of selling illegal drugs.
According to court documents, 18-year-old Rodney Halterman faces two Class D Felonies for possession of marijuana with intent to deliver and failure to affix tax stamp, a serious misdemeanor for fourth degree theft and a simple misdemeanor for possession of drug paraphernalia. The charges stem from an investigation by the Jefferson Police Department that began on August 24th.
The documents show that an officer interviewed a couple Greene County High School students who said Halterman allegedly sold marijuana to students in the school. The officer saw Snapchat photos of Halterman holding what appeared to be marijuana in plastic baggies, along with prices to purchase it.
A search warrant of Halterman's residence and his locker at the school were executed on August 29th. About 178 grams of a green-leafy substance was recovered from Halterman's home, along with a small scale, plastic baggies, and four City of Jefferson street signs. The substance was tested at the Carroll Police Department Marijuana Testing Lab and the results came back positive for marijuana on October 1st.
Investigators also obtained a search warrant for Halterman's Facebook Instant Messenger where several messages were found about selling the controlled substance. Halterman was also questioned about selling the drug and he admitted to his actions.
Halterman was arrested Tuesday and booked into the Greene County Jail where he remains under a $5,000 cash or surety bond. Raccoon Valley Radio will bring you more information as it becomes official.