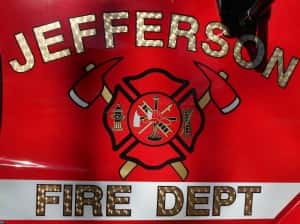 It's National Fire Prevention Week, and it's a time to go over safety tips and reminders to prevent fires in your own homes as we transition into the winter months.
Electrical heaters are a popular choice in the colder months, and Jefferson Fire Chief Jack Williams has some safety reminders before you use those types of heating sources inside your home or business.
"Just make sure there's nothing like a towel or a blanket close to them and try and set them on a hard surface like ceramic tile or something like that, or something that doesn't have a combustion temperature where it actually catches on fire. And then just make sure it's in a place where the kids or dog can't knock it over."
Williams says another thing to be mindful of is inspecting your furnace or boiler system.
"Just make sure you are changing your filters in your furnace regularly. Most of the fires that we have in the winter are normally a filter that was plugged, and got hot, and started smoking."
Williams adds that the fire department also provides a free fire safety program with Greene County Elementary students every year during National Fire Prevention Week. He says they will be at the school not only tomorrow but next Friday as well, due to the additional amount of students that they need to educate.