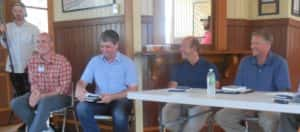 The Democrat candidate running for the US Congressional 4th District seat is hosting a town hall event in Jefferson next week.
Candidate JD Scholten will be at the Jefferson City Hall on Monday, October 15th at 6pm. This will be the Sioux City resident's third visit to Greene County since October of 2017. He made a career playing minor league baseball in seven different countries and then became a paralegal working in technology and innovation law in Seattle. He made his last stop in Greene County this past August as part of a panel discussion with 2020 Presidential hopeful John Delaney of Maryland to talk about agriculture issues.
The free event is open to the public and the campaign stop is part of Scholten's 39 Town Hall Meetings in 39 Counties Tour. Scholten is running against Republican incumbent Steve King, Libertarian Charles Aldrich and Edward Peterson who is running without party affiliation in the November general election.