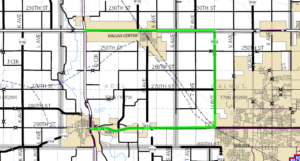 All the recent rain has finally caught up with the Raccoon River, and Highway 169 north of Adel has been closed due to water over the road at the bridge.
Dallas County Engineer Al Miller tells Raccoon Valley Radio that the Department of Transportation had been monitoring the water levels at the bridge, and Thursday morning they made the call to close the highway. As a result, there is a detour in place for motorists traveling north out of Adel, though it's not the one they typically use. Because of a patching project that has closed County Road P58 west of the City and south from Highway 44, traffic will be diverted east instead. The detour route has people going east on Highway 6 to CR R22 on the outskirts of Waukee, then heading north to Highway 44 and back west to 169.
The highway isn't the only Dallas County road facing flooding issues today, as Miller also reports that a five-mile section of Midland Trail between Highway 44 and Minburn is also closed because of water over the road. The Secondary Roads Department and DOT will let the public know once the roads are back open. Keep listening to Raccoon Valley Radio for the latest on the flooding situation.