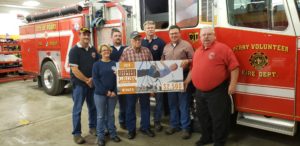 The Perry Fire Department received a big check Tuesday evening from the Monsanto Corporation, which was awarded thanks to one of their own.
Bill Kempf is the former Dawson Fire Chief, but has been a member of the Perry Fire Department since the two stations merged. He's also a full-time farmer, and as such was able to request a grant from Monsanto. Perry Fire Chief Chris Hinds says Kempf was chosen as this year's Dallas County recipient for the grant, and elected to give it to the Perry Firefighter's Association. "As a farmer, he filled out some paperwork through Monsanto Corporation, for a program called 'America's Farmers Grow Communities.' And this is a type of grant that if you're the lucky winner, Monsanto will provide a $2,500 donation to whatever nonprofit organization that you designate. And the money can be used for whatever the nonprofit organization feels is a worthy project to spend the money on."
Hinds says the $2,500 provided through the grant will go towards purchasing new fittings for the Perry fire trucks. There are older fire hydrants throughout the City that have special thread that requires a special fitting, and Hinds says that often makes it difficult for his department to both provide mutual aid or receive it. With the new fittings they'll be able to switch them out as needed and hook onto any hydrant they come across.
To hear more from Hinds, listen to today's Perry Fareway Let's Talk Dallas County program on air and at RaccoonValleyRadio.com.