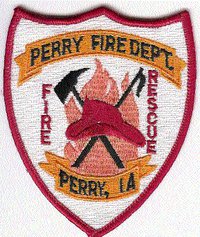 We're now less than a week away from Halloween, and you still have three more opportunities to visit Perry's favorite spooky attraction: the Haunted Barn.
The Perry Fire Department had a successful first week of their yearly scare factory, and it will be back this weekend on Friday and Saturday night. It will also be open on October 30th for Beggar's Night. The Haunted Barn is located in the Perry Marketplace building at Caboose Park, and will start at 7 p.m. each night. Cost to go through it is $5 per person, and all the proceeds will benefit the Perry Firefighters Association. Fire Chief Chris Hinds says they will use the money raised to help them purchase a new battery-powered Jaws of Life.
Hinds promises that the Haunted Barn will be an intense experience for attendees, though it's probably too scary for younger kids. It's set up inside the Marketplace as cubicles, with each room scarier than the last. To learn more about the attraction, click the link below to listen to the Perry Fareway Let's Talk Dallas County program with Hinds.
https://raccoonvalleyradio.com/2018/10/lets-talk-dallas-county-10112018-chris-hinds-part-two/