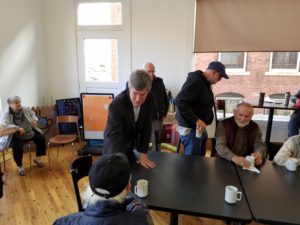 Democratic gubernatorial candidate Fred Hubbell paid a visit to Perry Thursday morning for a campaign stop, as we grow ever nearer to Election Day.
Hubbell was at the Perry Perk coffee shop to talk about his vision for Iowa and underlining the importance of getting people out to the polls. Warren Varley, who is the Democratic candidate for the Iowa House in District 20, was also in attendance at the event, and got the audience warmed up for Hubbell. Varley emphasized that Perry residents could easily make the 20th District their own if they showed up to the polls, given that the City is larger than the next three largest cities in the district combined. He then gave the floor to the potential governor, who discussed several reasons he feels Iowans should vote for him.
Some of the topics Hubbell went over included: education, in particular all-day pre-kindergarten, K-12 funding, and state and community college funding; healthcare issues like the privatization of Medicaid and the mental health crisis; water quality and soil health; and economic concerns. He also told Raccoon Valley Radio that his biggest concern leading up to Tuesday's general election is making sure voters show up. "We're very excited! You know it's wonderful to come to Perry, Iowa and see a room full of people who are energized and already knocking on doors talking to all their friends and neighbors to get them out to vote. I think we're going to have a big turnout, and I think a lot of people voting for change."
Hubbell is running against incumbent Republican Governor Kim Reynolds, who also paid a visit to Perry on Tuesday, and Libertarian candidate Jake Porter. Early voting can still be done between now and November 5th, with Election Day on November 6th.