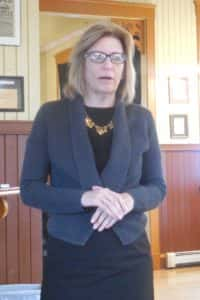 Iowa Senator Rita Hart made one of her last campaign stops in Jefferson on Friday ahead of the midterm elections.
The Charles City native is the Democratic candidate running for lieutenant governor, alongside her running mate and gubernatorial candidate Fred Hubbell. She told Raccoon Valley Radio, before the campaign trail started for her, the six-year state senator wasn't looking to run as lieutenant governor, but she was fed up with what was going on at the Statehouse and wanted to instill change in state leadership.
"We've seen the last two years some really divisive pieces of legislation come through and most troubling about that is the way it was done. So Fred Hubbell and I are committed to an administration that listens to people on both sides of the aisle and that truly works in the interest of Iowans."
Hart pointed out that their administration would eventually bring privatization of Medicaid back under state control, invest in education to help reduce class sizes and give teachers adequate funding, and controlling the state's budget to not have to give tax breaks to corporations and large businesses.
The event was part of Hubbell and Hart's "Get Iowa Growing" tour. Hubbell and Hart are running against Republicans Kim Reynolds and Adam Gregg and Libertarian candidates Jake Porter and Lynne Gentry in the governor and lieutenant governor races.