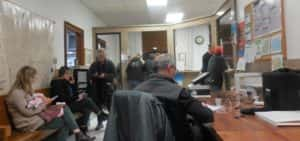 The unofficial election results are in for Greene County.
One contested county race came down to a few votes for County Treasurer with Republican Katlynn Gannon-Mechaelsen defeating Democrat incumbent Donna Lawson by three votes with 2,026 to 2,023 respectively. As for the two Supervisor seats, both Republican incumbents won their respective elections. Dawn Rudolph beat Democrat challenger Patti Naylor with over 68-percent of the votes, while Tom Contner defeated Democrat Melissa Frederick with 56-percent.
As for Iowa House District 47, Republican Phil Thompson won Greene County with over 55-percent of the votes to Democrat David Weaver's 42-percent. Thompson also won Boone County with just over 50-percent of the vote to Weaver's 46-percent. Greene County voters chose Republican incumbent Steve King for the US Congressional 4th District with 1,999 votes over Democrat JD Scholten's 1,944 votes. According to the Secretary of State's election website, King holds a slight lead over Scholten with just over 52-percent of the votes of 13 of 39 counties reporting.
The uncontested races in Greene County saw Thomas Laehn easily winning his election for County Attorney and Marcia Tasler was re-elected as County Recorder. There was 4,132 ballots cast of the 6,644 registered voters in the county for a 62-percent voter turnout. Greene County Auditor Jane Heun says there are 40 absentee ballots that are still outstanding and canvass of votes will take place next Tuesday during the regular Board of Supervisors meeting.
For full Greene County results, click the link below.
2018 Greene County Midterm Election Results