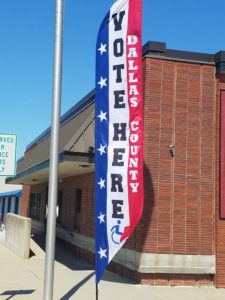 The unofficial numbers are in for the voter turnout in Tuesday's general election, and Dallas County voting reached never before seen heights.
According to Auditor Julia Helm, there were 41,738 votes cast across the County in the midterm election as of Tuesday night. She says there are a few provisional and absentee ballots that haven't come in yet, so by next week that number should be even higher. There are 61,421 registered voters in Dallas County, so the turnout for the election reflected 67.95% of that total. For comparison, in the previous midterm election in 2014, there was a turnout of 62.72% from the 46,581 registered voters. Given the 5% increase in turnout and 15,000 more people living in the County, Helm says it's safe to say this was the most voters Dallas has ever seen for a midterm.
The County also reflected the statewide trend of increased early and absentee voting. As of Tuesday, the Auditor's Office had received 16,722 early ballots, which represents 27.22% of the total votes cast and will only increase in the coming days. In 2014 there were 11,860 early ballots submitted, or 25.46% of the total. Helm was pleased with how the election went from a logistics standpoint, saying there were no major issues aside from some modem connectivity in the Perry 3 and Urbandale 13 precincts. She said there were lines in a lot of polling locations throughout the day, though she felt everyone was served to their satisfaction in the voting process.
Helm emphasizes that the election results are currently unofficial until they are canvassed at next Tuesday's Board of Supervisors meeting. Click the link below to view full results from the 2018 general election in Dallas County.
http://electionresults.dallascountyiowa.gov/ResultsSummary.aspx