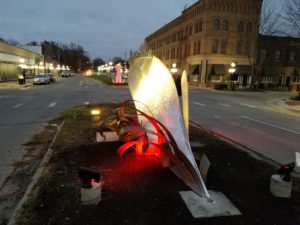 The final piece of artwork in Perry's Willis Avenue Streetscape Sculpture series was placed this week, and it will be officially unveiled this Saturday during Art on the Prairie.
The sculpture, titled "Furrowed Fields" and created by Jim Russell, the sculptor of "Speed Train," is an homage to the fourth aspect that helped Perry grow as a City, which is agriculture. Jenny Eklund, organizer of Art on the Prairie, says it's exciting to have all four sculptures in place, and she hopes a lot of people come to the unveiling and ribbon cutting ceremony to learn more about the newest addition. The program will start at 5:30 p.m. and will be emceed by Raccoon Valley Radio Program Director Chris Cohea, with public address provided by the Big Red Radio. Speakers during the event will include the sculptors Jim and Matt Russell, Des Moines Area Community College President Rob Denson, and President of Perry Economic Development Dan Spellman.
Eklund says the sculpture was a collaboration between each of the entities who will speak at the presentation. "With this sculpture, we were able to tie-in with the DMACC Welding Department, led by Jim VonBehren and Bob Hunt, who's also helping with copper murals that will be created during Art on the Prairie that will hang in DMACC and in the Perry Public Library. Cody Hartz will be the one cutting the ribbon for the 'Furrowed Fields' sculpture, which is a big plow blade that's embedded in the soil bringing up the dirt. We're pretty proud of it, and it's a tribute and dedication to anybody and everyone involved in agriculture."
Following the ribbon cutting, the public is invited to a reception with food and beverages at Hotel Pattee. To learn more about "Furrowed Fields" and Art on the Prairie, listen to Wednesday's Perry Fareway Let's Talk Dallas County program at RaccoonValleyRadio.com.