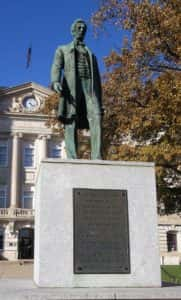 A year after the 100th anniversary rededication of the Greene County Courthouse, another landmark in Greene County will be celebrated on the downtown square in Jefferson.
The Courthouse 100 Committee is hosting the "Our Wilsons and Lincoln-100 Years Later" event in which the Lincoln statue will be celebrated as it turns a century old. The ceremony will take place at 2pm on Sunday in the courthouse rotunda. Plans include a welcome and brief remarks from committee chair Don Van Gilder, followed by a program emceed by Rick Morain. Rippey resident Allan Sieck will recite Lincoln's famous "Gettysburg Address." Dean Parr, a Jefferson native and an active member with the National and Iowa Lincoln Highway Associations, will speak on the importance of the Lincoln Highway. The program will wrap up with a theatrical portrayal of the Wilsons "reappearing," to tell their stories about their gift of the statue in 1918, followed by Tori Riley reading an original poem.
The program is free and open to the public with refreshments served following the ceremony.