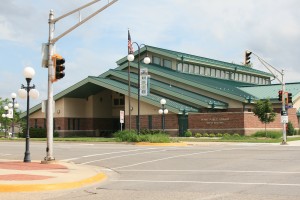 If you've been to the ShopKo in Perry, you may have noticed a collection of books just outside the front door. That's the Perry Public Library's flagship "Little Lending Library," and soon there will be more.
Library Director Mary Murphy says they'll soon be rolling out smaller versions of the original "Little Library" at the various senior care facilities around the City, as well as at a few local businesses like the Perry Perk coffee shop. Murphy says the concept of the program is very simple, and says she's had a lot of positive feedback on it so far. "One of our goals is to get books in people's hands. And our outreach — homebound delivery and outreach for people that don't make it into the library — are these 'Little Libraries.' We have talked to the senior living housing people from Rowley (Masonic Community), from (Perry) Lutheran Home, from Spring Valley, from Hamlin Bell, and Pearl Valley, and we're going to be putting a bookshelf in each one of those buildings and keeping it stocked with books once a month. And it's all along the lines of take-one, pass-one along."
Murphy says if anyone has some extra books they don't read anymore and would like to share, they are more than welcome to add it to one of the "Little Lending Libraries" around town. She adds, the most important aspect of the program is getting people of all ages to read, increasing the overall literacy of Perry. To learn more about this and other Perry Library programs, listen to today's Perry Fareway Let's Talk Dallas County program on air and at RaccoonValleyRadio.com.