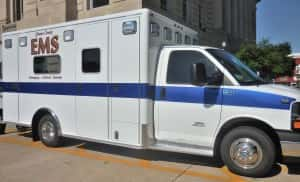 Discussions are continuing to happen about what to do about the ambulance services in Greene County.
Greene County Emergency Medical Services Co-owners Dennis and Marcia Morlan are expected to retire and the County Board of Supervisors has been discussing different possibilities of how to transition those services. One of the entities the Supervisors have been in contact with is officials with the Greene County Medical Center. CEO Carl Behne tells Raccoon Valley Radio he and other medical center officials have been talking with Supervisors John Muir and Pete Bardole over the last eight months. While nothing has been finalized yet, Behne notes the medical center is willing to be a participant in finding a solution.
"We see the value, we see the importance (of having an ambulance service). There is a time and a need for EMS services and we want to make sure that they're here for the community. We're at the table, we're having discussions (and) we're hopefully going to be part of the solution."
The medical center currently owns and leases the ground that the EMS building is located on, while the County owns the building and the three ambulances. The Morlans own the medical equipment. Dennis pointed out in a previous Supervisors meeting that he's had serious health issues and can't physically carry on with the business that he and his wife started 32 years ago.
Behne adds that the state legislature is looking into making EMS services an "essential element" like fire and police, where local governments have to provide those kinds of services to its residents. "So it's not unique to Greene County, this conversation is happening all across the state. But it will be interesting to see how all of that plays out while we're working in our kind of little vacuum to solve the solution on our own. Because if that becomes an essential element then that changes that dialogue that we're having right now."
Muir has previously stated that the ideal situation is to keep the ambulance services in the county.