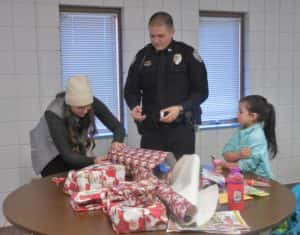 This Saturday the Greene County Peace Officers Association is continuing a tradition to bring holiday cheer to some less fortunate families.
Jefferson Police Chief Mark Clouse says the Shop With a Cop program takes about 15 area children shopping to buy gifts for the child's family members. However, due to the loss of Shopko Hometown, Clouse notes there is a change in the location of where they are going to take the children to shop.
"We took a look at the businesses here in town and decided that maybe the variety of what we were looking for in shops just didn't exist at this particular point in time. So at that point we made a decision to go to Boone to Walmart, one stop. But it's hopefully a temporary situation with our Shop With a Cop. Obviously we want to keep that program here in town for shopping as well."
Clouse adds that they will return to Jefferson for free pizza that's been donated by Breadeux, and the kids will be greeted by a special guest while they are eating lunch and wrapping their presents as well.