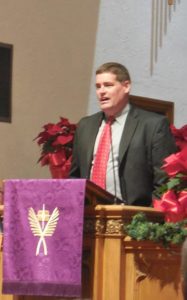 Everyone is invited to the annual Nativity Festival in Jefferson for the Heart of Iowa Habitat for Humanity.
Associate Director Jeff Lamoureux says they will have a variety of activities going on this Sunday at the First United Methodist Church in Jefferson. It starts with several nativity scenes on display at 3pm, with a select few up for bids in a silent auction. Then the Community Christmas Concert begins at 4pm. Lamoureux points out there are quite a few acts lined up for the concert including: the Greene County Singers, the 3:16 Brass and Wind Ensemble, the Central Christian Church Adult Choir, the First Presbyterian Church's "Joyful Noise," as well as some other young musicians.
"Greene County High School choir is having their Christmas Carolers this year, they are returning from last year. And the Greene County (High School) band is also doing a woodwind quintet along with a sax ensemble. So getting the high school kids involved."
The free-will donation concert will wrap up with an original poem by Tori Riley, followed by the free-will donation soup supper at 5:15pm. Lamoureux points out that there will be homemade chili and chicken noodle soup, with Greene County High School Interact Club students serving. The event closes with the pie auction at 5:35.
Lamoureux adds that all proceeds will go back to the 2019 Helping Hands projects for Greene County. To hear more from Lamoureux about the upcoming event, as well as a recap of this year's housing projects, listen to tomorrow's Community State Bank in Paton Let's Talk Greene County program.