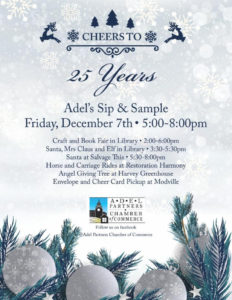 The Adel Partners Chamber of Commerce is hosting their annual Sip and Sample event tomorrow afternoon, and as it's the 25th year of the event, they're hoping to make it the biggest one yet.
There are 40 businesses around the City who are taking part in this year's festivities, and each will have a different holiday-themed dish or drink to offer attendees. There is no cost to participate, and the public is encouraged to start at Modville, located at 1802 Greene Street, where you can get a map of the participating businesses and pick up your "CHEER" card. Playing "CHEER" is like playing BINGO, except you will get stamps from each of the businesses you visit that are on your card. Cards that get "CHEER" can be turned back into Modville, with a chance to win one of three gift baskets.
All the locations are within walking distance around downtown Adel, so the Chamber encourages attendees to visit every location if they are able, not just the ones on their "CHEER" cards. Sip and Sample will run between 5-8 p.m. tomorrow, and there will be several other activities throughout the celebration, including: the craft and book fair at the Adel Public Library from 2-6 p.m.; Santa and Mrs. Claus at the library from 3:30-5:30; Santa at Salvage This from 5:30-8; and horse and carriage rides at Restoration Harmony, and the Angel Giving Tree at Harvey Greenhouse, both from 5-8.
For more information on the Adel Sip and Sample, click the link below to visit the Adel Chamber's website.