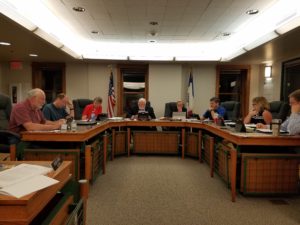 The City of Adel is preparing for an overhaul of its water and sewer systems, and the City Council recently approved several contracts to get the process started.
There were six projects that were sent out for bid through McClure Engineering, and at their most recent meeting the Council reviewed the low bids for each. Gary Brons with McClure took the Council through each of the packages, which included four water projects and two sewer. Brons said he was pleased with the amount of contractors who bid each project, as well as the prices that came in. He said the bids for each project were within 10% of each other, which was positive because it meant the bidding was competitive and the projects were clear to the contractors.
The total cost for the six projects also came in a fair amount under McClure's estimates, which indicated the engineers were mostly accurate in their assessments of the projects, but the contractors had a strong desire to win the jobs. Brons added, the City has worked with most of the low bidders in the past with good results from each, and the ones they haven't worked with had strong references, so he felt confident in awarding each of them their respective project. All total, the six awarded contracts in the City's water and sewer overhaul will cost $7,944,056.50, which was around $83,000 under the engineer's estimates.
The projects will be paid for through capital loans and the United States Department of Agriculture, with the water projects anticipated to cost around $16 million, and the sewer around $6 million. Additionally, the USDA recently announced the City of Adel had received nearly $11 million in loans and $4 million in grants to be used to make improvements to the wastewater treatment plant, as required by the Department of Natural Resources. See below for a full list of the recently awarded water and sewer projects, including the bid prices and low bidders.
Project: Projected Engineer's Estimate — Low Bid and Contractor — over/under
Bryon & Rapids Street Water Main Replacement: $690,635.00 — $674,462.50 from Crow River Construction — ($16,172.50)
Raw Water Transmission Main: $882,742.06 — $739,921.00 from Thorpe Water Development — ($142,821.06)
Wells 5 & 6, Well Drilling: $289,221.00 — $247,720.00 from Northway Well and Pump — ($41,501.00)
Wells 5 & 6, Well Houses & Site Development: $734,300.00 — $1,258,000.00 from WRH, Inc — $523,700.00
East Annex – Bid Package # l, Lift Station: $1,150,000.00 — $1,336,000.00 from Synergy Contracting — $186,000.00
East Annex – Bid Package # 2, Sewer & Force Main: $4,280,000.00 — $3,687,953.00 from Minger Construction — ($592,047.00)
Total: $8,026,898.06 — $7,944,056.50 — ($82,841.56)