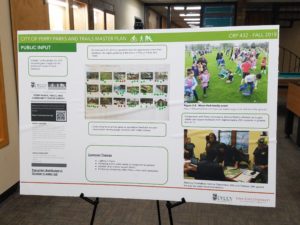 The City of Perry is continuing the master planning process for the Parks and Recreation Department, with an informational open house for the public today.
The event will run from 5-9 p.m. at La Poste, and the public is invited to come and go as they please. There will be students in the ISU Community and Regional Planning studio class on hand to explain their findings from the recent public surveys, and outline the master plan for the parks and trails of Perry. ISU senior Jamison Brus says it's been a pleasure to work through the class with the City thus far, and he looks forward to revealing more of their findings to the public.
"What I've really noticed, and what's been really awesome to see, is just the level of community involvement. And especially with even how small the parks division is, they're very passionate. They really want to do the best for people in their parks and trails system. And being able to see Perry as a city that's really proactive in terms of planning, being able to get things done, and wanting to see things for the future has been really inspiring, and has made this project even better."
There is no cost to attend the open house, and refreshments will be provided.