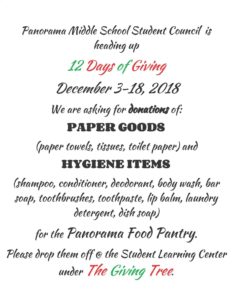 Instead of turtle doves and pipers piping, the Panorama School District is asking the community to think of the everyday essentials that may not be easy for some residents to purchase during their "12 Days of Giving."
This is the third year the Panorama Middle School Student Council has organized this drive for the Panorama Food Pantry. They are asking students and community members to donate paper goods like paper towels, tissues, and toilet paper; and hygiene items like shampoo, conditioner, deodorant, toothbrushes, sanitary products, and more.
Student Council member Jazmyn Sellers says the drive was started to help families this holiday season and year round, "Here in Panora we like to help out our community if they are in need of supplies for their daily lives. Being a part of such a great community is what makes living in Panora so special to my peers, family, friends, and me."
12 Days of Giving lasts until December 18th and donations can be dropped off under The Giving Tree at the student learning center in the secondary building. The donated hygiene products will then be available at the Panorama Food Pantry, which is accessible for all residents. The pantry is open on the second and fourth Tuesday of the month from 4-6 p.m. at the high school near the greenhouse.