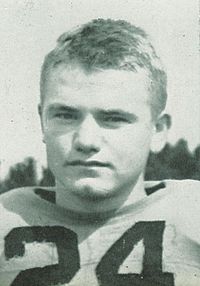 Hometown Heritage of Perry is inviting the public to a special event tomorrow morning, featuring an author who recently published a book about a famous local.
"The Way of Nile C. Kinnick, Jr.: Insights, Images, and Stories of Iowa's 1939 Heisman Trophy Winner" was written by Iowa City author Mark D. Wilson. Wilson will be on hand tomorrow starting at 10 a.m. in the Canisteo Room of Hotel Pattee for a book signing and lecture about the famous Adel native. The event is free and open to the public, no registration is required, and refreshments will be provided.
Kinnick grew up in Adel, won the Heisman Trophy while playing football for the University of Iowa, and died during a World War II training flight at the age of 24. Wilson's book chronicles Kinnick's short life through a series of his personal journal entries, letters, and photographs.