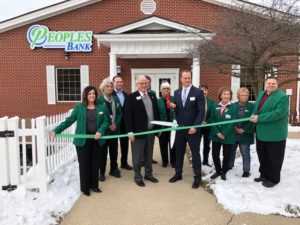 Peoples Bank in Jefferson held a ribbon-cutting ceremony Friday as the finale to the transition process of new ownership.
The eight Peoples Bank locations were purchased in December of 2017 by Rigler Investment. The third generation Rigler family now has 17 banking locations in northeastern and central Iowa, with their ownership of State Bank.
Peoples Bank Market President Derek Kennedy says the rebranding to Peoples Bank and the new logo and colors are fully implemented. The Rigler family is also installing solar panels on the roofs of each of the Peoples Bank locations, with the exception of the Ogden location. Kennedy adds that all locations will be 100-percent solar powered by the end of 2018.
Kennedy points out one additional new aspect that the Rigler family wants to focus on for 2019 is using technology innovation for cutting-edge banking.