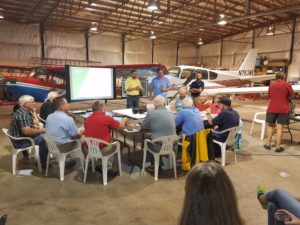 The City of Perry's airport reconstruction project is now closer to coming to fruition, after the City Council recently approved an agreement for a $2.3 million general obligation loan.
Perry City Administrator Sven Peterson says the project includes a runway repair and extension, as well as a new hangar at the Perry Municipal Airport. Peterson points out that the $2.3 million the City is on the hook for is small compared to the total project cost, as most of the bill will be footed by the Federal Aviation Administration. "Overall, this project to rebuild the runway is about $12 million. The new hangar will be about $650,000, of which we have a grant to cover part of that. FAA money is great, because it is 90% grant, 10% local match, so on a large project like this, that definitely makes a lot of difference for us."
Peterson adds, the sale of the $2.3 million in general obligation bonds will be issued on January 7, 2019, with the project hopefully starting during the next calendar year. He also emphasizes that the loan will not increase the City's Debt Service Levy. It will be paid for through other sources before having to go into debt service, and at that time, other existing debts will be paid off. To learn more about this and other topics from the recent Perry City Council meeting, click the link below to listen to the most recent Perry Fareway Let's Talk Dallas County program with Peterson.
https://raccoonvalleyradio.com/2018/12/lets-talk-dallas-county-12182018-sven-peterson/