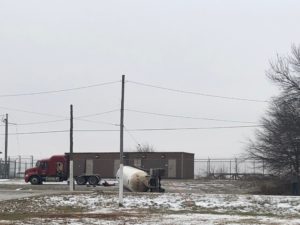 An incident in Stuart Monday afternoon involving a semi carrying a propane tank which broke off was resolved with no reported injuries or spills.
At around 12:15 p.m., emergency crews were called to White Pole Road near Stuart Bowl on reports of a propane tank laying on its side in a ditch. As a precaution, a 15-block area was evacuated as crews assessed the situation and cleaned up the scene. It was discovered there were no leaks from the tank, and its contents were transferred to a different truck. Additionally, the driver of the semi was uninjured and there were no other vehicles or individuals affected by the incident. The cause of the accident is still under investigation, though officials said it was possibly caused by driver error. The road in question is narrow and the tank likely slipped off the road, causing it to break off. It's unknown if the driver will be cited for the incident.
The scene was cleared just after 5 p.m. Monday, and the evacuees were able to return to their homes. The Stuart Fire and Police Departments, Menlo Fire and Rescue, Dexter Fire, Iowa State Patrol, and Guthrie and Adair County Emergency Management Agency assisted at the scene. The Stuart Fire Department expressed their thanks to the residents for their patience, as well as the Stuart Congressional Church for housing the evacuees as the incident was taken care of.