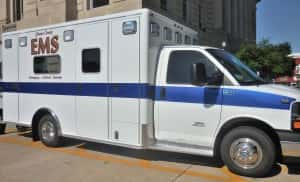 The Greene County Supervisors recently took the next step in making a decision on what to do with the ambulance service in the county.
The Supervisors hired Lacy Brubaker as the transitional administrator for Emergency Medical Services at their regular meeting this past Monday. She will be paid $18 per hour for 37 ½ hours per week for the position. Her salary and benefits will be from the Greene County Sheriff's office budget for the next six-months. Even though the Board elected to hire Brubaker for an interim period, Board Chair John Muir says Dennis Morlan will continue to oversee Greene County EMS and his wife Marcia will continue to oversee the financial aspect.
Muir says there was no formal contract in place at the start of the current fiscal year on July 1, 2018 with Dennis Morlan, but he agreed to stay on for one more year. He points out that Brubaker came to him and offered her services to help on an interim basis until a final solution was made.
"We kind of came to a conclusion that we were going to go to county-based (ambulance service). It was very apparent that it was a service that people didn't want to lose. At first we looked at keeping it, trying to remain a private ambulance service. We weren't comfortable that would be successful. Then we looked at county-based and I think county-based brings a continuity to the whole department or system that will be better for everybody in the future."
While final details of what the county-based ambulance service will look like hasn't been decided, Muir says the target date that they want to have everything in place by is the start of the 2020 fiscal year on July 1st.