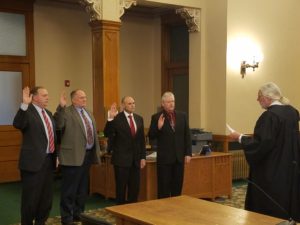 The most recent Dallas County Board of Supervisors meeting started at the courthouse, where five elected officials were sworn in.
District 5 Judge Brad McCall did the honors for four of the five, including Supervisor Brad Golightly, Treasurer Mitch Hambleton, Recorder Chad Airhart, and County Attorney Chuck Sinnard. Supervisor Kim Chapman was then sworn in by his son Josh. Now that they've been sworn in, each begins their next four-year term, or in the case of Sinnard, his first. Golightly, Chapman, Hambleton, and Airhart were each incumbents, re-elected in the November general election. Sinnard was the challenger to 20-year incumbent Wayne Reisetter, and received 52% of the votes to earn the office. Reisetter will stay on as an Assistant County Attorney.
The friends, families, and co-workers of each elected official filled the courtroom to watch the swearing in ceremony.