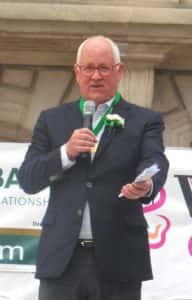 The 2019 Iowa Legislative session begins next week and one of the topics that lawmakers will look at is legalizing sports betting in the state.
A recent decision by the US Supreme Court made last year struck down the Professional and Amateur Sports Protection Act (PASPA) that was enacted in 1992 that froze state regulations against sports betting. It now allows individual states to legalize sports betting. Wild Rose Casino Chief Operating Officer Tom Timmons was disappointed that the legislature couldn't get it passed last year, but is confident that it'll pass this year.
"On that basis, I'm hoping to make part of Coach's Corner, as it pertains to us, is pretty well set up as a sportsbook now. All we would have to add is a few countertops to accept wagers. Come out there on some Sunday afternoon, wouldn't that be fun, or some Saturday afternoon in the fall and just sit and watch your favorite teams and whatever, and see if you can make a little bit of money on it as well."
Recently retired Iowa Lottery CEO Terry Rich says their board voted to study the issue of sports betting to see if there was a role that the Iowa Lottery could play. He points out that 70-percent of sports betting in the world is done through the lotteries.
"Our retailers have asked us to at least investigate the idea of kind of a sports lottery where you can bet on kind of a top line, more parlay (bet), where you bet on two or three games at once. So that it's an easy bet because they don't want long lines at the convenience stores. But they would want the opportunity that would have a place for people to be able to do a high level bet."
The 2019 Iowa Legislative session begins Monday, January 14th.