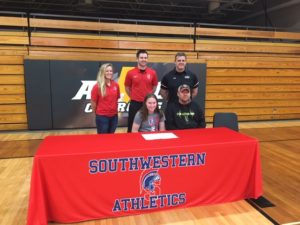 ACGC senior Savana Fuller took a slight pause from her focus on the basketball court as she signed a letter of intent Wednesday to play softball next year for Southwestern Community College in Creston. Fuller was joined by her father, Shane, ACGC head softball coach Tim O'Brien, and two members of the SWCC softball coaching staff in the high school gymnasium in Guthrie Center.
Following the signing, Fuller shared with Raccoon Valley Radio that her late mother has been a source of inspiration in helping her achieve this opportunity. "I think she would be really proud. She's really pushed me to perform at the best of my abilities and be the best."
Fuller's mother, Darci, who passed away suddenly in 2014, was a volunteer softball coach in Guthrie Center for six years. The senior also thanked her family and friends for pushing her to improve her game, which is something she's hoping to do at SWCC.
SWCC's first-year head coach Nick Weinmeister saw plenty of potential from Fuller and knew he wanted to include her in the 2019-2020 recruitment class. "The first thing that I saw out of Savana was her natural athleticism. I think that she'll, not only from a pitching aspect but from an infield aspect too, really make an impact for our roster in a number of ways. Basically be a super utility player for us."
Fuller has been the Chargers' starting pitcher each of the program's first two seasons, recording a total of 14 wins and 160 strikeouts for the gold and black. She joins Pleasantville first baseman Sydnee McKinney as West Central Activities Conference players committed to SWCC for the 2019 class.