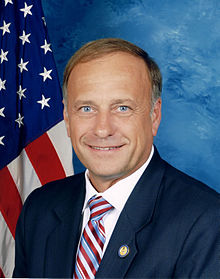 In just a matter of two days, US Congressman Steve King now has two primary challengers and has defended himself against supporting white supremacy in a national media article.
On Wednesday, Iowa Republican Senate Assistant Majority Leader Randy Feenstra of Hull announced his candidacy for Iowa's 4th Congressional District. Then on Thursday, sources say Army veteran, educator and former businessman Bret Richards of Irwin was the second Republican candidate to challenge the nine-term congressman in next year's primary election.
Richards' announcement came on the same day that a New York Times article ran with an interview with King that the Congressman believed called him an advocate for white nationalism and white supremacy. In a statement from King he defended himself saying in part, "I reject those labels and the evil ideology that they define."
The statement goes on to say "It's true that like the Founding Fathers I am an advocate for Western Civilization's values, and that I profoundly believe that America is the greatest tangible expression of these ideals the World has ever seen…I am simply a Nationalist."
King narrowly defeated his Democrat challenger JD Scholten by three percentage points in the 2018 midterm elections.