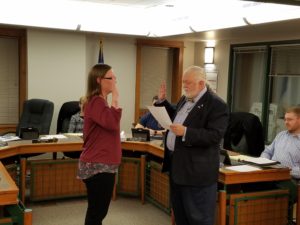 For more than a month, the City of Adel had been without a full-time City Clerk. However, at their most recent meeting, the City Council officially appointed Angela Leopard to fill the post.
Leopard, who has lived and worked in Adel for the last year-and-a-half, had previously been serving as the City's Accounting Clerk. When the City chose to terminate former Clerk Jackie Steele, Leopard was the only internal candidate to apply for the job. She reportedly impressed the personnel committee and City staff during the interview process, and they recommended her hire. In order to do that, though, the Council had to amend the City Clerk qualifications, which was approved with an ordinance at the same meeting Leopard was appointed.
Following the dismissal of Steele in November, Leopard was temporarily appointed as the Deputy City Clerk under Finance Officer Brittany Sandquist, who was named the interim clerk. Sandquist will now return to her original duties, and the City will look to find a new Accounting Clerk to replace Leopard.