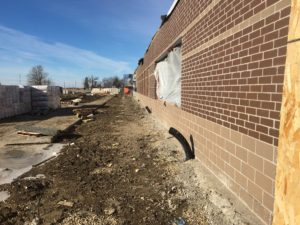 The new Dallas County Law Enforcement Center is now about 50% of the way completed, but it still faces a long road ahead before its scheduled opening this fall.
At the recent Board of Supervisors meetings, representatives from Design Alliance and the Samuels Group gave the latest update on the progress of the center. One thing pointed out was that the unseasonably warm temperatures mixed with rain the area has received in the last several weeks has held back certain aspects of construction. In particular, contractors have had to reschedule work they've been planning that utilizes a crane, as the machinery proved too heavy and sunk into some soft ground. At this point, the estimated completion date for the facility is late October of this year, just behind the initial prediction.
It wasn't all bad news with the report, however, as Jerry Purdy with Design Alliance said the first two sections are now completely enclosed and work is being done inside. The third section, which includes the jail pod, is still a bit behind, but could be fully enclosed within the next week or two. As far as the financials for the $23.9 million project, there is still over $600,000 in the contingency funds, which the Samuels Group said was well above their projections for this point in construction. The Board also approved the 11th pay application of $1,191,556.10, paid to nine contractors.
See below for a complete list of payments made and the contractors who received them.
Samuels Group — General Requirements — $66,475.60
Samuels Group — Construction Management Fee — $23,170.99
Samuels Group — Commissioning — $2,223.00
Midwest Masonry — Masonry — $217,550.00
U.S. Erectors — Metals — $40,842.08
Edge Commercial – General Construction – $255,022.18
Central States Roofing – Roofing, Flashing – $41,306.00
TT&J Holdings – Detention Equipment – $205,000.79
Continental Fire Sprinkler — Fire Protection — $13,534.86
L.A. Fulton & Sons — Plumbing and HVAC — $178,308.35
Van Maanen — Electrical — $148,142.25