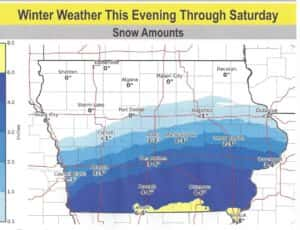 There's a strong chance of some winter weather headed for the southern half of the state later tonight.
According to the National Weather Service, Dallas County will be under a winter weather advisory from 6pm tonight through 6pm tomorrow. The main impacts with the advisory include reduced visibility and snow-covered roadways. Along with the advisory, parts of Dallas and Guthrie counties could see as high as four-inches of snowfall, whereas parts of Greene County could see as much as two-inches.
Remember to drive to the conditions of the road and if you see a snow plow on the roadway, give them plenty of room to work. Raccoon Valley Radio's Severe Weather Action Team provides road condition updates as well as cancellation and postponement information during the winter season.