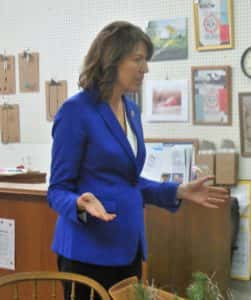 Over 25 people attended a meet and greet event at Art on State in Guthrie Center Saturday with US Congresswoman Cindy Axne.
Iowa's 3rd Congressional District Representative spoke mainly about the partial government shutdown. She said she voted for appropriation bills in the House five times this year, but no bills made it through to the president to sign. The sticking point continues to be President Donald Trump wanting funding to build a wall along the Mexico border. When asked what it would take to end the government shutdown, Axne gave her response.
"Well I think it's going to take Senate leadership, in particular Republican Senate leadership, to say, 'Listen what came out of the House to reopen government-which was basically their bill-and the appropriations they had set aside for it is reasonable.' So let's get the rest of government open and then let's talk about this. But let's take these two issues and separate them."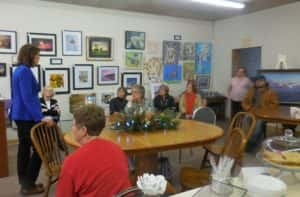 She also talked about using funding for border security in term of technology like drones, surveillance and more patrol and not by building a wall. Other topics Axne covered included her training she received on bipartisan communication and working on a bill to allow for transparency for organizations to gain better access to federal government grants to rural communities.
The stop on Saturday in Guthrie County was part of Axne's promise to visit every county in her congressional district during each year of her two-year term.