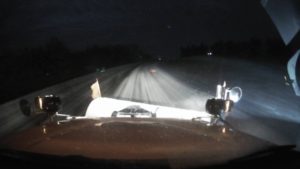 A snow storm left several inches of snowfall and is making the morning commute troublesome for motorists Wednesday.
According to the Iowa Department of Transportation most of the roads in Dallas and Guthrie counties are completely covered with snow, while most of the roads in Greene County are only partially covered with snow. The DOT also reports that there is a tow ban in effect for Dallas County. Plow trucks are on the road for the DOT, as well as the county and city crews, and so motorists are reminded to give them plenty of room to work to clear the roads.
The National Weather Service reports that Perry saw around five-inches of snowfall, Guthrie Center had between three-to-five-inches and Jefferson saw between two-to-four-inches. Dallas County continues to be under a winter storm warning until 9am today, while Greene and Guthrie counties are under a winter weather advisory until  9am.
The National Weather Service anticipates high wind gusts tomorrow creating blowing snow conditions and sub-zero wind chills. Remember to dress appropriately when going outdoors. The one to count on for winter weather coverage is the Raccoon Valley Radio Network.