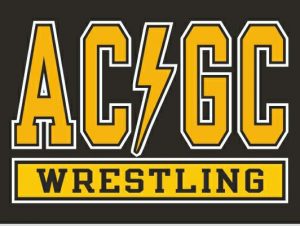 The ACGC wrestling program capped off a season to remember with the annual banquet Thursday night at ACGC High School in Guthrie Center.
After the banquet meal, event emcee Keith Buttler started off the evening with opening introductions. Head Wrestling Cheer Coach Brenda Rumelhart then honored this year's group of seven cheerleaders, including seniors Navey Schafer and Sara Pauley. Head Coach Shawn Danker then took the microphone and began his remarks by thanking several key contributors to the program.
Following the remarks and awards for team managers, Danker and the coaching staff gave out several awards for the wrestlers. Freshman Cayden Jensen received the "Most Improved" award. State qualifying sophomore Gunnar Larsen received the "Coaches Award". Larsen led the team in five of their ten "leaderboard" categories.
Senior Blaine Beeler received the "Most Valuable Wrestler" award. Beeler became the first Charger to reach 150 wins, ending his career with 151 at the state tournament where he finished in 6th place at 120 pounds. Classmates Gabe Rowley and Easton Benson both received the "Courage Award", which goes to a grappler who overcame sizeable obstacles to achieve success. Both grapplers battled injury during the year, with Benson reaching "The Well" and Rowley advancing to districts.
All four seniors received awards for their role as captains. The Chargers finished the dual season with a 16-8 record, advancing to the Class 1A Regional Duals.